In today's Supply-Side Spotlight, we're chatting with Aditi Ramesh, Director of Programmatic US at Anzu, an SSP which is changing the game for programmatic advertisers via blended in-game ad solutions for mobile, PC, console, and more.




#1: Hi Aditi, and thanks for talking to us today. Anzu calls itself "the world's most advanced in-game advertising platform". How would you explain in-game advertising? And how is it different from convention gaming advertising?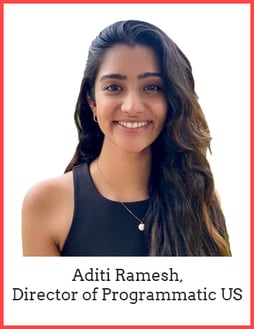 Advertising in games was always traditionally thought about as mobile advertising, with formats like rewarded, interstitial, and banner ads which were all taken from web advertising and shoehorned into gaming. When Anzu was founded the company sought to change the way advertising in gaming was done.

Unlike other formats, Anzu's intrinsic in-game ads sit natively within the gaming environment on 3D objects like buildings, billboards, and around sports stadiums, mirroring ads you would expect to find in the real world. The placements are non-intrusive and are designed to complement the gameplay, putting players first and enhancing the realism of the experience.

These types of ads benefit all parties: advertisers who can reach huge diverse audiences, game developers who benefit from incremental and consistent revenue without compromising on the gameplay, and players who get to experience titles for free or heavily discounted with ads that enhance the gameplay.
#2: What's the size of the in-game opportunity, and what are the unique benefits for advertisers?
The size and scale is huge. With over 3.2BN gamers globally, the channel offers a unique, hard to reach, and incredibly diverse audience. Anzu helps advertisers reach players across all gaming platforms including mobile, PC, console, and even gaming metaverses!
Unlike many other digital channels including social media, gaming is a closed environment which helps to keep it brand safe. It can't be manipulated or host uncontrolled, unmoderated gamer-generated content. All the game developers we work with are entirely transparent about the game content, and advertisers have the choice over which titles and even areas of the game their ads are placed in which is a really attractive proposition for advertisers.
Whereas publisher sites tend to attract an audience with specific demographics, players of any game are less homogeneous, providing the perfect gateway to reach diverse consumers. It's important to remember that every brand has an overlap with gaming and we help them reach their audiences with the right message in the right games at the right time.
The recent publication of the updated intrinsic in-game advertising measurement guidelines has also been a groundbreaking step forward for the in-game advertising industry. The first iteration of them was in 2009, and the industry has come a long way since then so there was a huge need for an updated version. Now, there is a standard way to measure viewability in-game, which solidifies in-game advertising as a scalable, mature medium for advertisers who can be assured of the value of their campaigns, providing advertisers with yet more benefits for running their campaigns in-game.
#3: Compared to display and video, in-game represents an all-new advertising channel. What do buyers need to know about it that's different from more established channels?
The main difference between intrinsic in-game ads and ads on other platforms is that they are served in a 3D environment. Up to this point most digital advertising has been thought of in 2D and so this has meant Anzu and the wider industry has had to build out a lot of tools and infrastructure for advertisers to feel confident in their in-game buys.
Last month, the MRC and IAB published an updated version of the intrinsic in-game advertising guidelines. The updated standards address ad viewability, measurement, inactivity, and fraud with intrinsic in-game ads bringing them up to par with the rest of digital media. Their publication was a huge step forward and confirmation that the industry is taking gaming seriously.
The other main difference between intrinsic in-game advertising and other formats is that the ads are non-clickable. To preserve the gaming experience in-game ads do not send players out of the game, rather they provide advertisers with a means to effectively reach an engaged audience and effectively build real connections with brands. This is why it's extremely important to consider the right creative that catches attention, compliments the game, and puts across the brand message in a quick and effective manner. Getting this right is extremely important and working with a provider that knows the landscape is the key to finding success within gaming.
#4: How do advertisers buy in-game inventory? How is this changing or evolving? Do you feel that scale is an issue at this point?
Like most other digital channels, advertisers can buy in-game inventory directly or programmatically. Anzu is the first solution to offer cross-platform programmatic in-game buys across a premium gaming inventory which spans mobile, PC, console, and gaming metaverses, including titles from premium publishers including Ubisoft, Saber Interactive, and Amanotes. Partnerships with most major DSPs including TTD, Yahoo DSP, StackAdapt, Adelphic, AdForm and Smaadex has also made it even easier for advertisers to tap into gaming to help supercharge their campaigns.
#5: How should buyers think about supply quality when it comes to in-game? Are brand safety, suitability, fraud, etc. a common concern? What type of targeting can they apply?
To counteract fraud Anzu works with the highest trusted fraud detection partners to protect digital ad spend and make in-game impression delivery and IVT measurement available to advertisers. Data from cybersecurity company HUMAN recently showed that out of 579M events, Anzu's IVT averaged out at 0.36% on mobile and 0.11% on PC reaffirming that its in-game ad formats have much lower fraud rates than other forms of digital advertising.
Anzu works with third party fraud detection and verification systems including IAS and Moat to verify its traffic. With Moat, Anzu brought the first-to-market viewability measurement for in-game ads giving advertisers working with Anzu access to third-party viewability verifications and In-view metrics when running in-game ads, either direct or programmatically, on mobile and PC.
Anzu also works with several data enrichment providers including Lotame to provide advertisers with the targeting options and campaign insights that they are used to from other digital channels.
#6: How is in-game advertising being affected by the deprecation of the third-party cookie? Will the same solutions for addressability and measurement being developed for established channels be relevant for in-game?
Anzu provides advertisers with advanced contextual targeting with no reliance on personal data. This means its solution is perfectly suited for a world without cookies, presenting advertisers with a solution that protects them and their audiences.
As mentioned above, Anzu partners with data enrichment companies to provide advertisers with the means to layer on contextual targeting to their campaigns.
If you're ready to level up campaign results for your demand customers via Anzu's unique in-game inventory, find Anzu in the BidSwitch platform today and start trading right away.