In today's Supply-Side Spotlight, we're shooting the breeze with Gus Quinzani, Senior Director of Business Development at Unruly, an SSP that's dedicated to driving demand-side success through premium CTV, video, and display inventory.

---


#1: Hi Gus, and thanks for talking to us today. First up, please summarize your company's role in the programmatic industry.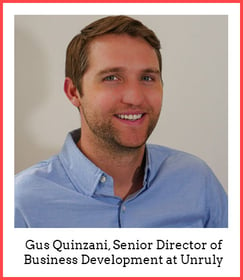 Unruly is the supply-side platform (SSP) component of Tremor International's (TI) end-to-end, video-first platform. Being a part of this infrastructure enables us to drive significant and unique demand from DSPs, but also within the past year TI has made many large-scale strategic moves that have exponentially increased the value we drive for our partners–especially in the advanced TV space.
For instance, you may have heard that last month TI made a strategic investment in VIDAA, the operating system owned by and used by Hisense and many other OEMs to run their TVs. This investment is also on the heels of an exclusive ACR data partnership year we have previously announced which will enhance our TV Intelligence data viewership product that our partners can leverage through our CTRL self-service platform. In October of last year, we also acquired Spearad, an advanced ad server and unified auction platform that was purpose-built for TV and enables CTV/OTT content providers to deliver the kind of TV-like ad experiences consumers are used to.
So beyond just unique demand, we're continuously expanding our tools and data capabilities to uniquely enhance our partner's supply (and increase the value of it) so that we're so much more than just the "pipes" that connect supply to demand.


#2: The CTV landscape differs greatly from geo to geo: which specific differences do you see in US vs. European markets right now?
Every market is somewhat fragmented right now – that's true regardless of geo-location. Viewers are using multiple devices to stream video content, from Smart TVs and gaming consoles to mobile devices and more. They also have access to a wide range of streaming services – provided by everyone from subscriptions (e.g., Netflix) to broadcasters (e.g., ITV or BBC iPlayer) to advertising-based video on-demand (e.g., Hulu).
That said, Europe is undoubtedly more fragmented than the US, as markets are largely dominated by local broadcasters who have the most traffic and supply. Consequently, advertisers have to work with individual broadcasters in each country – the one-size-fits-all approach of the US just doesn't apply to Europe. And, as a result, each European market is maturing at a different pace.


#3: As streaming services mature, subscriber fatigue is a growing concern: do you see a potential rise in AVOD adoption in 2022 vs. the historical dominance of SVOD?
It's likely that consumers will increasingly turn their attention to advertising-based video on-demand (or AVOD) over subscription-based video on-demand (SVOD) - just look at Netflix! Furthermore, services and providers in the AVOD space are starting to get more and more into original content – we've seen Roku snatch up the library of content from the now defunct Quibi and also double down on their original content this year – and that will draw consumers in as well.


#4: Who do you see taking advantage of the shift to CTV media buying? What types of companies do you see performing the best and what are they doing differently? Who else do you think could benefit?
Content providers who were historically online video-first but have taken advantage of CTV/OTT growth by shifting their content creation and programming to fit the biggest digital platform in the house are now reaping the benefits of competently executing that strategy.
As well, publishers who have a data rich bid request are going to benefit more in the programmatic CTV space. Buyers are looking to marry traditional digital media targeting abilities with TV type supply in the CTV space to bring the best of both worlds and those who will benefit the most from this are publishers and tech providers who can show more granular details of their supply like show, genre, rating, channel, slot duration, etc.


#5: What CTV buying best practices do you recommend for media buyers that are new to CTV? Do you think initiatives like OpenRTB's Content Object will help to standardize the CTV space?
As far as best practices are concerned, we believe open real-time bidding (OpenRTB or oRTB) is the way to go, and it's helping to standardize the CTV space. oRTB 2.6 is now available for implementation – it has a new set of standards to bring ad buying of CTV inventory in line with the way traditional TV advertising is bought and sold, with the added benefit of flexibility enabled by digital real-time bidding.
It addresses scenarios with standardization that would have previously required custom development, allowing publishers to offer their CTV inventory more accurately and giving buyers the flexibility to respond to bids in a way that maximizes their chances of winning the auction.
More specifically, oRTB 2.6 helps bring greater transparency to provided inventory while also increasing efficiency and flexibility with pod-bidding (e.g., sellers can specify the total duration of a given ad pod and give advertisers the capacity to bid on multiple ad slots in a single bid request). As with most new IAB specs, it will likely take time to gain traction across the ad ecosystem. From our end, we're planning to adopt oRTB 2.6 later this year.


If you'd like to offer your demand customers seamless access to premium, brand-safe CTV and video inventory, connect to Unruly today via BidSwitch. Not sure where to begin? Talk to your account manager today or just contact us.